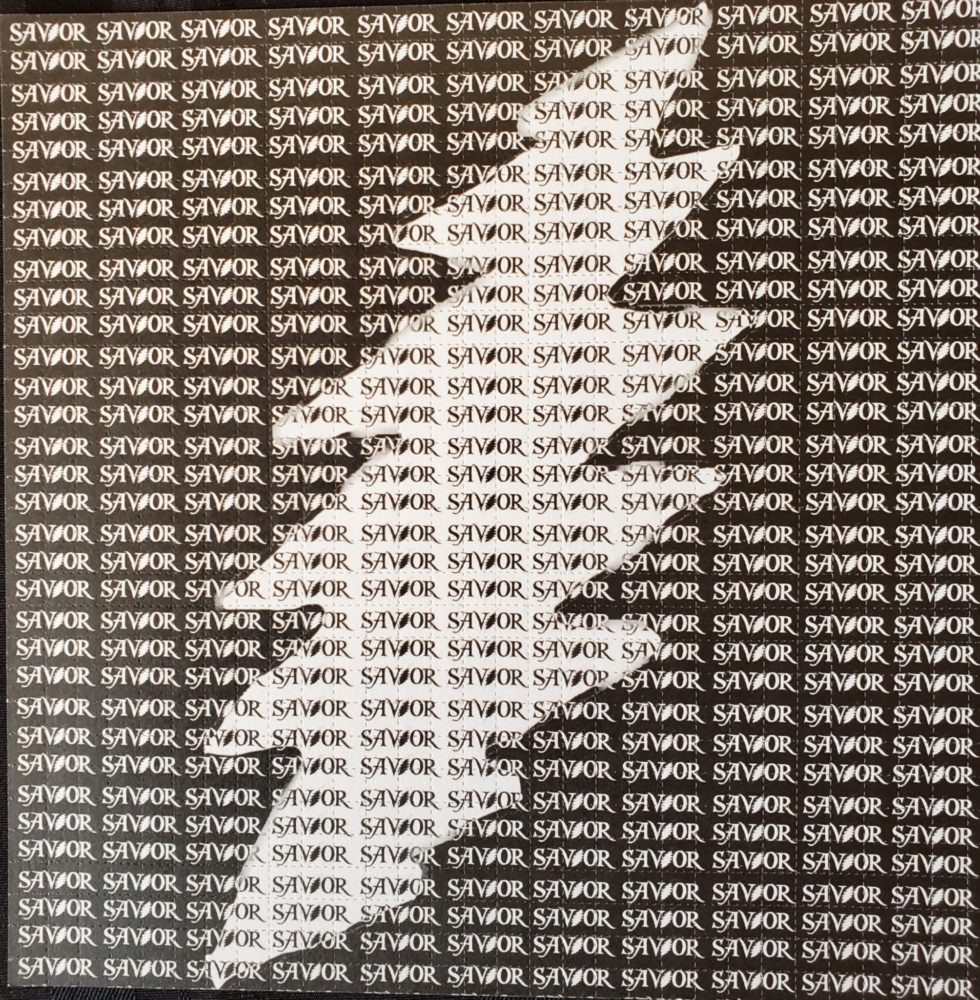 For this second interview, I welcome Liberty Skrollz. I thought I had most of his creations in my collection but reading his interview I realize that I'm far from it. gotta start hunting for the missing sheets 🙂
Can you tell us your name?
Blessings and respexx: My artist name is Liberty Skrollz; although, I also have various other adaptations to this alias.
In 1979, I was born in a small town outside of Seattle, Washington in the United States
I'm a Gravitational Rainbow Child.
What made you choose your artist name?
I consider myself a poet, and I am infatuated with written text, especially things written or typed on scrolls, like Jack Kerouac's On the Road.
As a counterculturist and general literary artist, I also enjoy playing with words and altering their spellings, so I invented the name Skrollz for myself. I added Liberty to the name because I like to take liberties with my multimedia and literary arts. I am also a firm believer in every person's unalienable rights to pursue life, liberty, love, and happiness; thus, Liberty Skrollz was born sometime around 2010…
I live in the Rocky Mountains.
– Can you tell us about your academic / artistic background ?
I've been doodling and drawing for as long as I can remember. My father was a psychedelic and classical artist who etched glass with a diamond pointed pen. He introduced me to art, psychedelics, and the counterculture. As a youngster and teenager, I was obsessed with cartooning, Kustom Kulture art, psychedelic poster art, graphic arts, and multimedia art. In college, I took some art history classes, and I fell in love with various other forms of art, but I really began practicing digital arts as a form of meditation, therapy, and hobby. While touring the United States in the summer of 2002, a young lady asked me to design her a String Cheese Incident t-shirt, and that's when I really started working as a semi-professional artist.
– How and when did you discover blotter art ?
As far as I know, I've known about blotter art most of my life since I've always been interested in psychedelic art and involved in the psychedelic scene; however, the first blotter art I remember actually seeing was a version of the Electric Butterflies that passed through one of my hometowns in the late 1990s…By then I was fairly familiar with R. Crumb's blotter art and some of Mark McCloud's work. I may have also been vaguely familiar with some of Key-z, John Blackburn, and Paul Guest's prints, but I didn't really know anything about these people or their work until the early 2000s.
– what drew you into creating your own blotter art ?
In some sense, I always wanted to be a psychedelic poster artist; however, I never imagined actually having any of my art professionally printed until I began working with Key-z in 2006 or 2007. He published a Psychedelic Pioneer's blotter that I designed the background for, and in 2012, he published a few more blotter images for me.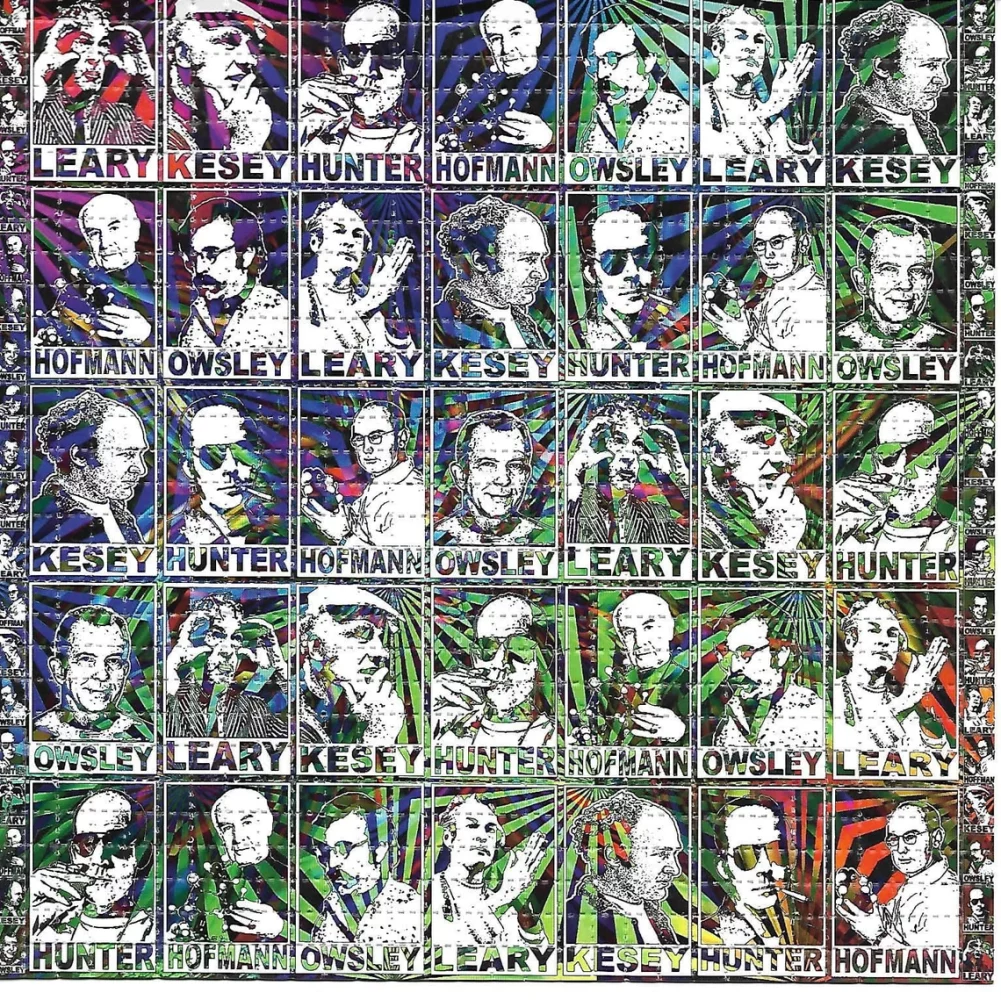 – How many blotter art pieces did you make ?
So far, I think my art has been officially printed on 23 blotter posters, but 5 of them are double-sided prints.
– Who printed and perforated your pieces then and now ?
Key-z printed my first four blotters, and Mykenshotradingcompany has printed the rest. I had hoped to have Paul Guest print some posters for me, too, but we didn't have a chance to make it happen. (RIP Monkey <3)
– What do you feel makes blotter art a unique art form ?
I have always loved the psychedelic nature of blotter art as well as the counterculture aspects of its history. I think psychedelic art and the blotter culture has pushed art into a new arena of creative expression.
– What has blotter art brought to your creative process?
Blotter art has given me the time and the space to grow as an individual because it gave me direction as well as a purpose in life. It has also helped me build a worldwide network of like-minded associates. These people and this culture has helped me develop as a person and as an artist. "A picture is worth a thousand words!" "Viva la revolución!"
– What was your first blotter art creation ?
Although the Psychedelic Pioneers print was officially my first blotter poster, I actually only developed the background; therefore, I consider this series of three prints to be my first independent prints. (I'm a Hog For You: Can't Get Enough of Your Love; Steal Your Terrapin; Damn, It Feels Good to Be a Prankster)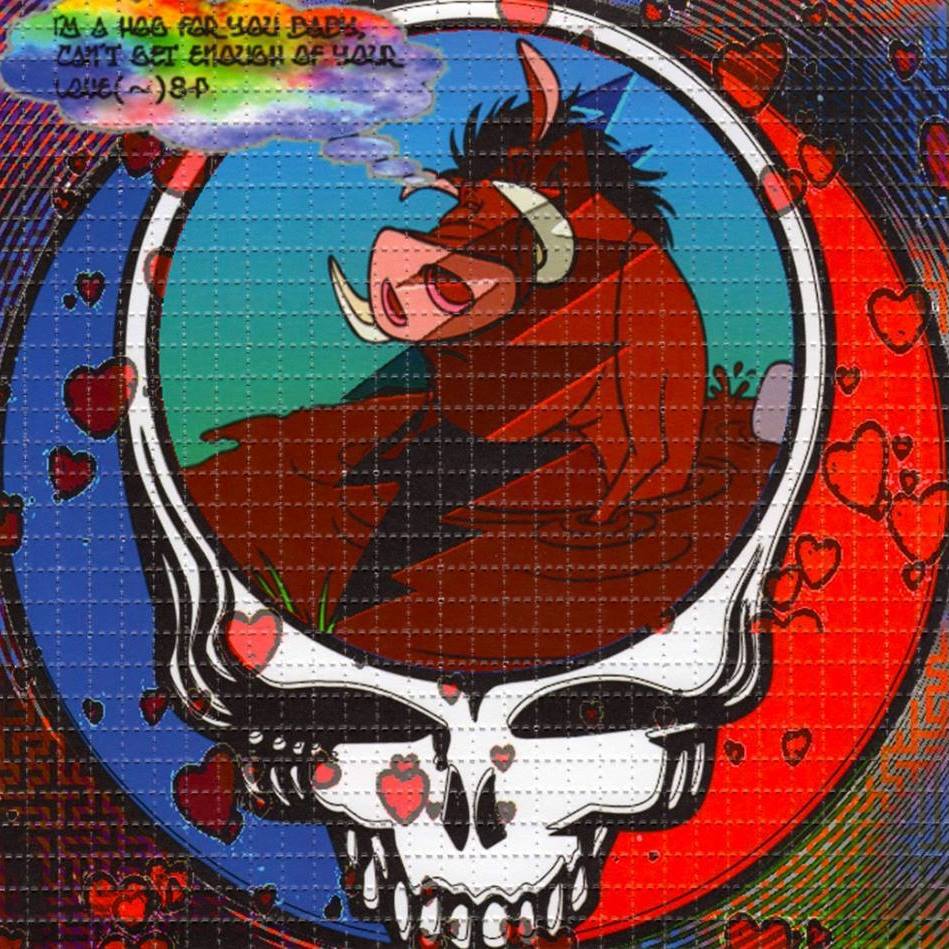 – What blotter art piece you made is your favorite and why?
To be honest, I can't pick one, and I still have a few I'd like to have published…
– Do you have a blotter art collection besides your own creations? If yes what is your most valuable piece?
Oh Yeah! I have a decent collection of blotter art that goes beyond my own art. I have a copy of my "Damn, It Feels Good to Be a Prankster" print that's been signed by Mark McCloud. I consider it priceless and potentially one of a kind. I also have one of Mark McCloud's double-sided Alice prints which he signed for me, too. I don't know how much it is worth, but I also consider it priceless.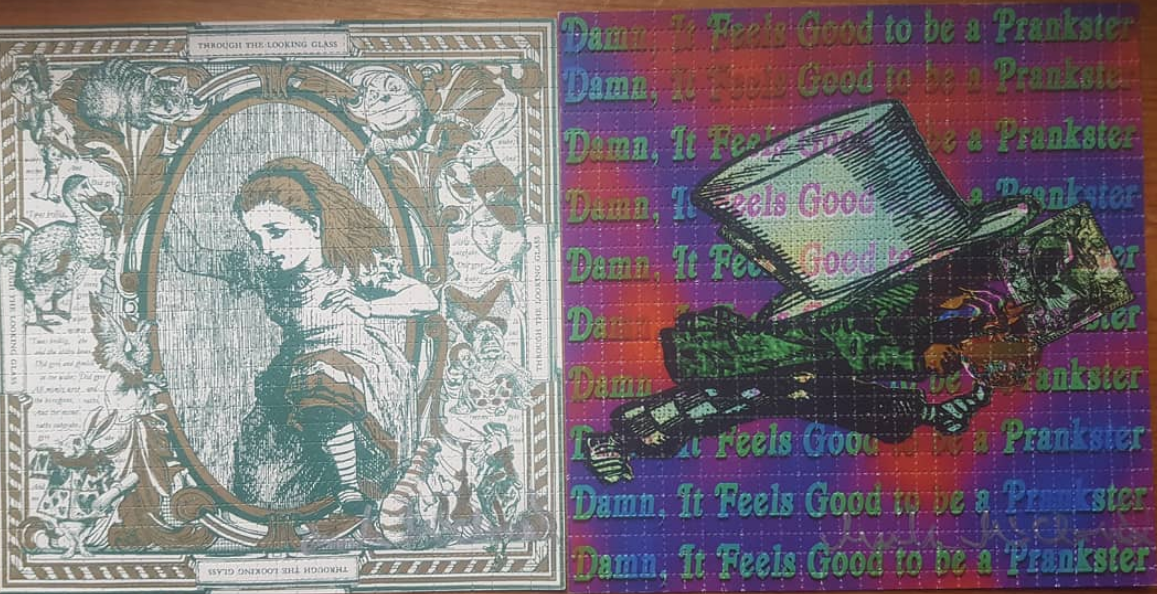 – What blotter art piece you didn't make is your favorite and why?
That's really a challenging question to answer since there are so many prints that I love and so many prints that have inspired me.
This is the first blotter print I bought, and I got it from Paul Guest a long time ago. I discussed its origins with Paul a few years ago, but he couldn't remember anything about the artist or the print's name.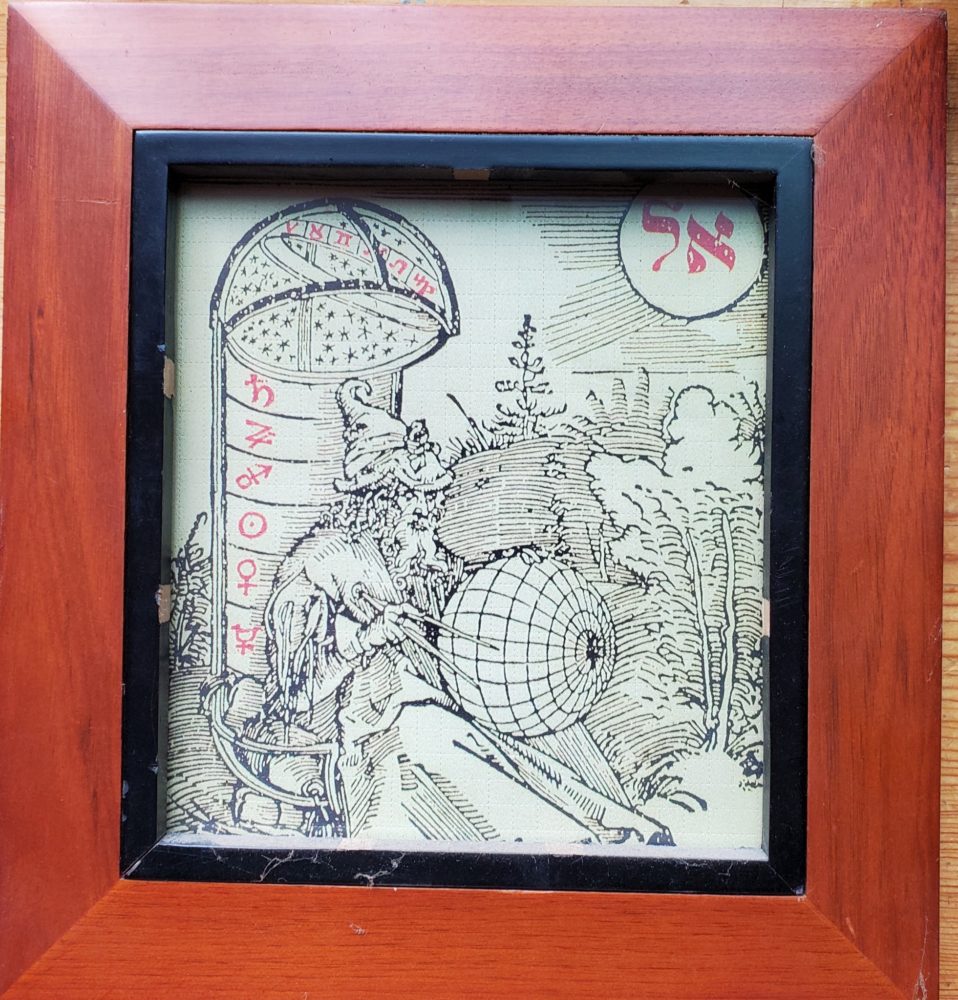 – Which other blotter artist do you like/admire?
There's too many to name without forgetting someone somewhere, but I'll specifically give a shout-out to some of my biggest inspirations: Mark McCloud, Paul Guest, John Blackburn, Key-z, Martin Coyle, Rick Sinnett, Jeff Hopp, and Josh Levy, R. Crumb, Rick Griffin, and Stanley Mouse also deserve an honorable mention as some of my artistic heroes. Nicholas Scott Smith, Kyle Damon James, Kosapan, Luka Tratnik, Brian Cox, Fantoma, and Samuel Farrand have also been some super kynd and supportive blotter allies.
– on a collector stand point, vintage vs vanity?
Support the artists! Share the art!
– what is your opinion about people tearing up blotter art to sell shards or so called "minis"?
Support the artists! Share the art!
– do you have a website where you sell your blotter art ? If not where can people buy your creations?
@libertyskrollz on Instagram
Blotterart.fr has some of my prints for sale, Mykenshotradingcompany has some of my art for sale, and Key-z has some of my art for sale…
– Any other favorite site you would like our readers to check out?
– anything blotter art related you would like to add?
A few years ago, @meddle.media made a film called Yucca Fest which included some of my blotter art, and I consider it an underground, independently produced cult classic, so I definitely suggest you try to watch it and support the meddle.media folks!!!
I am sincerely grateful and humbly blessed by the support, encouragement, and kyndness that I've received from the blotter art community!
I am humbly honored to be a part of the blotter art community, and thank you to all of you for being Psychedelic or Counterculture Pioneers!
Finally, sincerest thanxx and appreciation to Kosapan for giving me a chance to be a part of his artists' interviews, for sharing his presence, and for his artistic efforts!
Sincerest blessings and respects,
Liberty Skrollz